You are here
Country Representative for the State of Palestine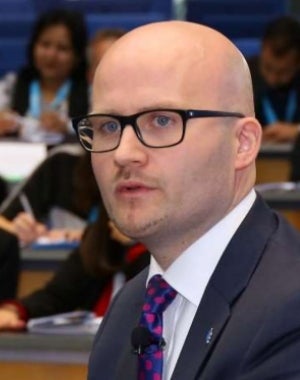 Dominic Allen
Since July 2022, Mr. Dominic Allen has been serving as UNFPA Representative for the State of Palestine. Mr. Allen - a dual national of the United Kingdom and the Republic of Ireland - brings nearly 20 years of experience in the UN system.
Before taking up this role, Mr. Allen served at UNFPA Headquarters (2019-2022) as Global Programme Coordinator and additionally Chief a.i. for Operational Support and Quality Assurance - striving for excellence in country programming.
Prior to joining UNFPA, Mr. Allen worked for the UN Volunteers (UNV) programme as Chief of the New York Office & UN System Affairs (2016-2019) and as Strategic Management Specialist in UNV's Executive Office (2012-2016). Mr. Allen had joined UNV from the UN Development Operations Coordination Office (2008-2012) where he was Policy Specialist and additionally Policy Advisor a.i. for Country Support and Leadership Development Coordination - leading work on the UN Resident Coordinator system. Mr. Allen started his UN career with the World Health Organization, serving at the Regional Office for the Eastern Mediterranean in Cairo (2006-2008), the Iraq Country Office (2004-2006) and Headquarters (2003-2004) - all assignments focusing on emergency and humanitarian action.  Before joining the UN, Mr. Allen worked in the private and public sectors.
Mr. Allen holds a Master's degree in International Relations from the University of Cambridge and a Bachelor's degree in Business from the University of Huddersfield. Mr. Allen is married and has two children.