World leaders, civil society and private sector gathering in Nairobi to commit to actions for ending maternal death, meeting demand for family planning and stopping gender-based violence by 2030   Nairobi, Kenya, 11 November 2019 -- Actions to save mothers' lives, meet the global demand for contraception and stop violence against women and girls by 2030 are the focus of a three-day global summit that begins here tom...
In preparation for the Nairobi Summit, UNFPA Palestine has engaged extensively with our many youth partners. Alongside consultations with government and civil society, we have sought to understand what young people specifically care about. In a series of dedicated discussions, they highlighted to us a range of diverse issues, and several key themes emerged: Young people in Palestine are deeply concerned with child m...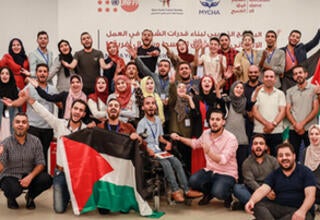 Technical Reports and Document
MYCHA initiative contributes to key action 3 of the compact - Capacity Building and Local Action, aiming to ensure that the priorities of young people are addressed by the humanitarian system and their participation in humanitarian action is supported and facilitated.