UNFPA: Delivering a world where every pregnancy is wanted,
every childbirth is safe and every young person's potential fulfilled.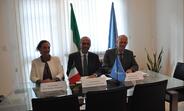 11 August 2017
Statement by Mr. Robert Piper and Mr. Anders Thomsen
Statement by the United Nations Coordinator for Humanitarian Aid and Development Activities, Robert Piper, and the UNFPA Representative, Anders Thomsen, on the occasion of International Youth Day 2017

Throughout the last seventeen years, Palestinians have been experiencing a remarkable...
Youth (aged 15 - 29) comprise 30% of the total population in Palestine, and all children...
No vacancies currently available