Gaza Strip, Palestine – "I was worried about my daughter's health. Thankfully, the doctors, midwives and nurses at the government hospital were responsive, well-trained and very supportive," said Sama Riziq, recalling when she gave birth to her daughter four years ago.
Ms. Riziq's case was considered a "near-miss", meaning she and her daughter experienced life-threatening complications . Such cases, and those that end in maternal death, are all too common in Palestine, where maternal health and maternal mortality are major concerns – and the situation is not improving. The year 2020 saw a 43 per cent increase in maternal deaths  compared to 2019 in the Gaza Strip and the West Bank, according to a UNFPA study.
Alongside the Government of Japan, UNFPA works to improve maternal health in Palestine and provide critical assistance for women in need. One key step is to better understand near-miss obstetric cases so that responses can be designed to effectively prevent and respond to them. To this end, funding from Japan supported the development of an electronic records system for maternal near-miss cases.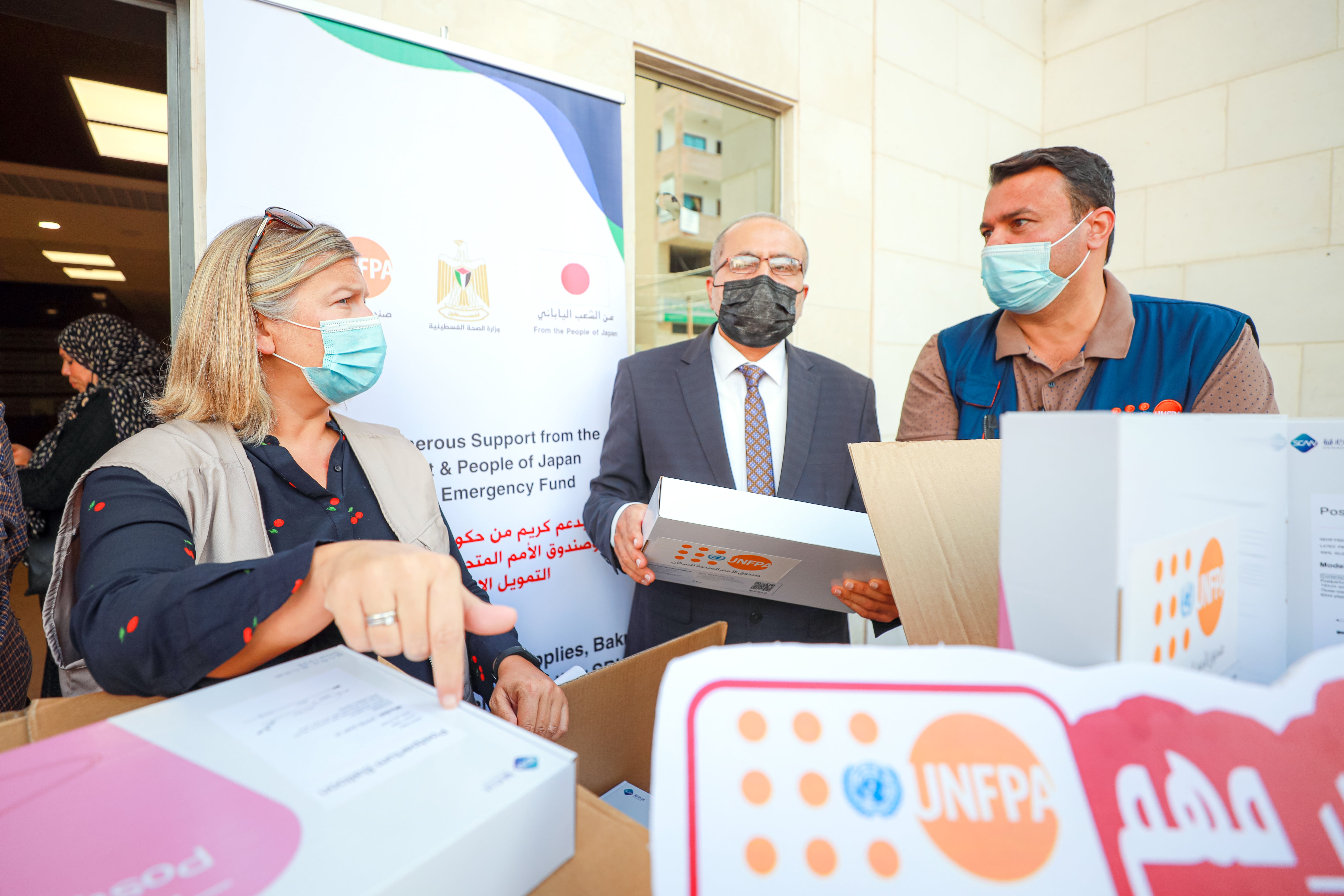 "We can now analyze data and detect risk factors much more easily, which helps us to develop need- and evidence-based interventions to reduce maternal mortality rates," explained Ms. Riziq, who is now a UNFPA Project Coordinator at the Ministry of Health in Gaza. Since her own harrowing experience, she has witnessed first-hand the positive impacts such efforts have had on women's health.
In addition to recording life-threatening obstetric cases, the Japan-supported project also helped develop a protocol for pregnancy-related venous thromboembolism (blood clots in veins), and provided training for about 100 healthcare providers. These funds also supported UNFPA in procuring and distributing 150 Bakri balloons to hospitals across the Gaza Strip. These balloons are "a simple tool, yet a life-saving method to control post-partum haemorrhage in near-miss cases," explained Dr. Khaled Zimmo, an obstetrics and gynaecology consultant in Palestine. "Bakri balloons were not previously available in Gaza. This intervention has helped to exponentially decrease bleeding-related maternal deaths since 2021."
These projects have made a tremendous difference, Ms. Riziq said. "In Gaza, everyone feels the human touch" of the efforts. "They are based on genuine support from one nation to another. We wish for these impactful projects to remain and expand in the future."
In 2021, Japan was among the top 10 core contributors to UNFPA. The country has long supported maternal and newborn health and emergency obstetric care in the Middle East.