Mona is a 60-year old Palestinian woman, a resident in Beit Sahur, a small town east of Bethlehem in the West Bank. Mona had not known about the importance of breast self-examination or going for a mammogram screening, until one day in September 2021, a breast cancer mobile clinic was visiting her area of residence. The nurses at the mobile clinic informed Mona about the importance of regular testing and the benefits of early detection of breast cancer, and performed a mammogram test for her.  
A UNFPA report shows that more than 60 percent  of breast cancer cases in Palestine are found at a late stage, reducing their chance of survival.
The mobile clinic is run by the Augusta Victoria Hospital (AVH) and its healthcare workers (nurses and radiation technician), supported by the Palestinian Medical Relief Society (PMRS). The UNFPA, under the Japan funded project, has supported the clinic to reach more women, increase screening rates, and improve survival rates as a result of early diagnosis. The project has built health workers' capacities, and has funded awareness-raising activities, and new screening equipment and devices such as an ultrasound machine, among others.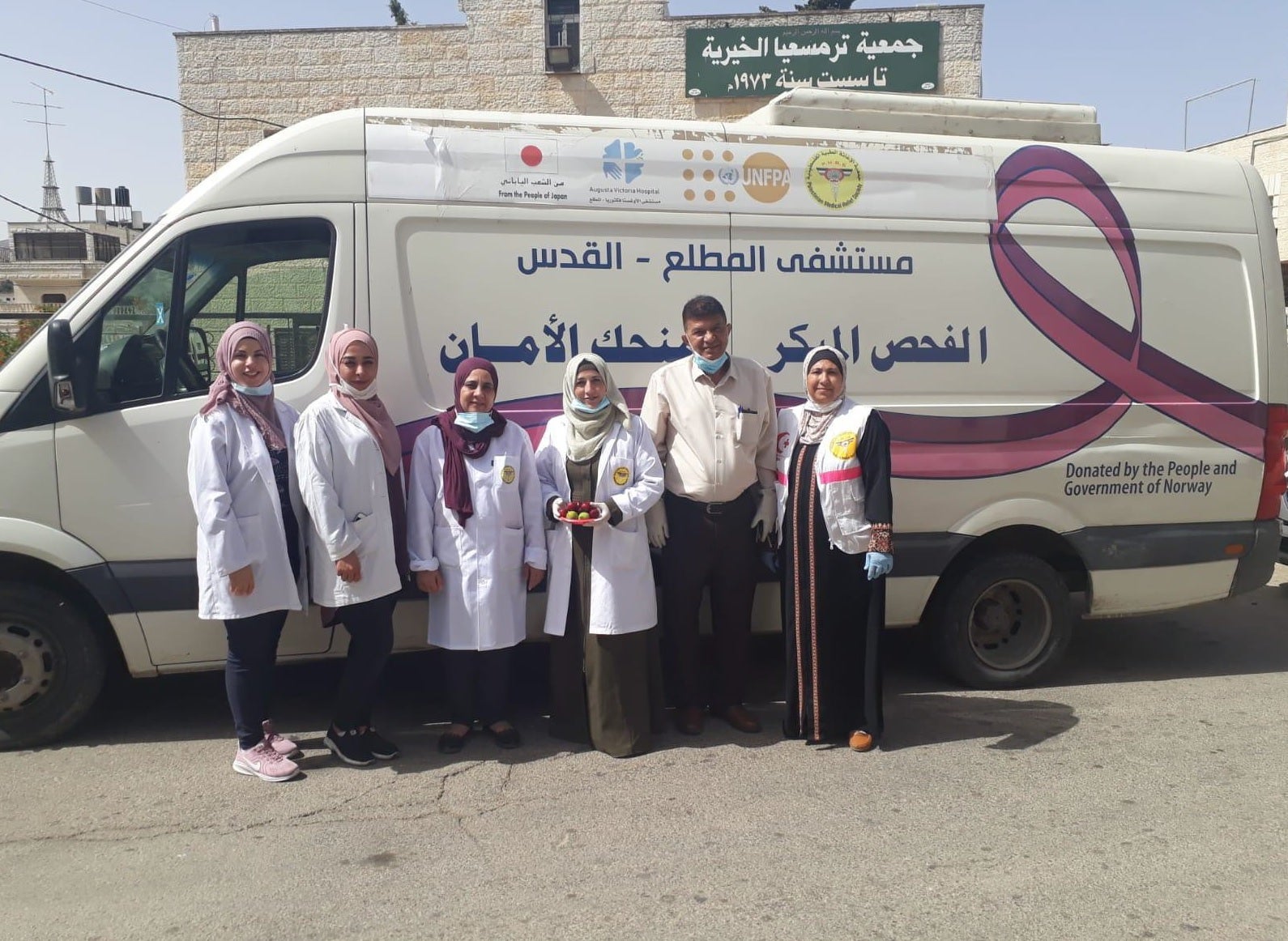 Palestine Medical Relief Society & Augusta Victoria Hospital mobile clinic ©UNFPA
Ten days after Mona's diagnostic tests at the mobile clinic, she received a call from the nurse, telling her that they have detected a mass which requires further ultrasound testing. It was later confirmed that Mona has breast cancer. When Mona was asked how she felt when she first heard of the diagnosis, she said: "I did not feel scared, why would I be scared? It was important for me to know sooner rather than later. I have faith in God, and this makes me strong. My family was more worried than I was, but they were very supportive and I supported them too". 
Lana Naser El Dein, the chief community outreach program officer at AVH, discusses the great development of this project since its establishment: "Throughout the years, we have reached many women and attendance rates are still on the rise, especially in remote areas where there are no nearby clinics providing mammogram services. At the mobile clinic and at AVH, all diagnostic and treatment services are free of charge" 
The PMRS/AVH teams schedule a plan for mobile clinic visits ahead of time, based on remoteness of locations and emerging needs. In coordination with local councils, municipalities, community organisations and sometimes mosques, the clinic stays in one area for one week (sometimes longer if needed), then moves to the next area. 
For her treatment, Mona underwent a lumpectomy surgery, and received 16 radiotherapy sessions at AVH in Jerusalem after the surgery. "The treatment period was difficult and tiring. I was going from Beit Sahur to Jerusalem and back every day for 16 days. But thanks to God, I was feeling hopeful and strong. My sons and daughter wanted to accompany me during the radiotherapy sessions, but I insisted on going on my own and did not want them to see me in pain. The key for a successful treatment is good psychological health; feeling well makes you surpass all difficulties." 
"It is important for us to reach all women in all areas. Nurses also visit the elderly and disabled people at their homes.  The biggest success in this project is the noticeably reduced diagnosis time. We now contact women within less than two weeks of the initial mammography test. We thank all our partners including UNFPA for this advancement in breast cancer in Palestine" Adds Lana from AVH. 
Mona is now cancer free, and expresses her appreciation for the health workers and project support throughout her treatment journey: "The nurses and doctors were very kind and always helpful. I message the nurse whenever I have any questions or concerns and she always responds to me very quickly. We were also supported with transportation, which made our trip to and from the hospital easier."
She finally adds: "I tell every woman who has not yet done a mammogram test, you should go and do it, please do not ignore your health. If you have cancer, it is better to detect it early and do not be scared. The most important thing is to feel strong and not wait for empathy from other people. Stay strong and everything will pass smoothly".