UNFPA, UNICEF, and UNDP in partnership with the Ministry of Entrepreneurship and Empowerment and other national partners, continued the implementation of Generation Unlimited Youth Challenge remotely. Ten teams of 37 young innovators were selected in February and are currently engaged in a Human-centered Design Thinking Bootcamp from 11 May until 28 June 2020 using Slack and Zoom and based on UNICEF UPSHIFT Social Innovation Curriculum and IDEO Design Kit.
Three of the selected ten teams are led by youth with disabilities, working with their peers.  When asked about her participation in Generation Unlimited, Haneen, 22, from Khan Younis, south of Gaza Strip, said "This is my first online training experience, I am doing my best to adapt and learn how to use new tools and technologies. Remote learning is challenging with electricity cuts and weak internet speed, especially when navigating our day-to-day life with this pandemic.  But we should face our challenges and overcome them. This is our role as young people" .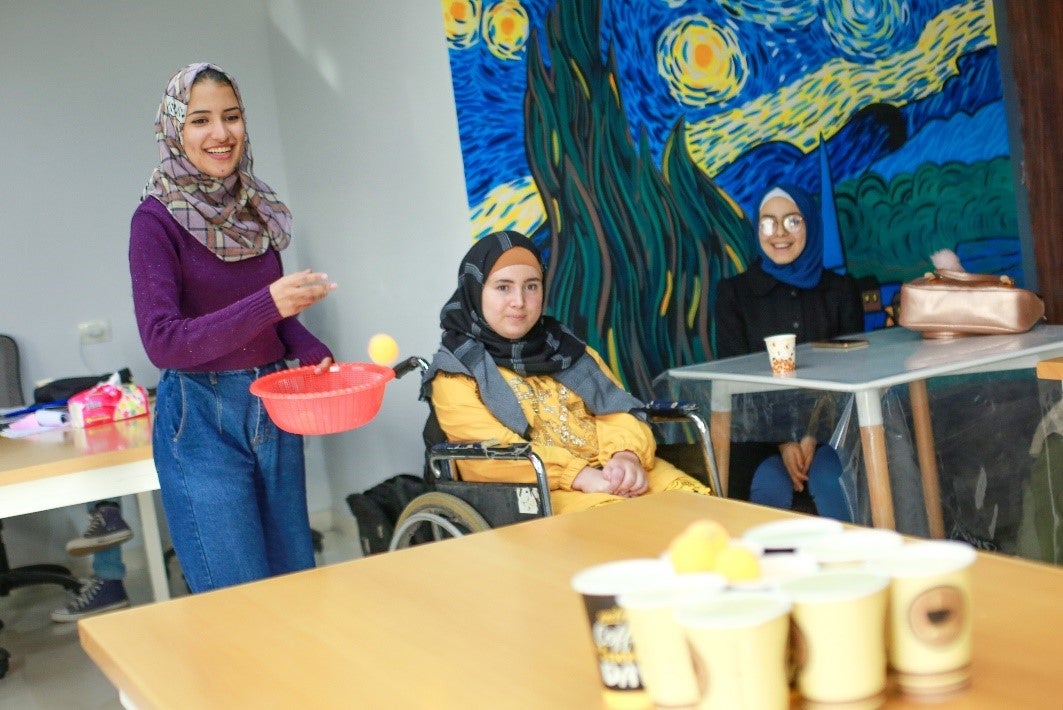 Haneen and her team "Empowerment" in the pre-bootcamp workshop, Gaza, February 2020
But we should face our challenges and overcome them. This is our role as young people". 
Five teams will be selected and provided with seed funding, tailored mentorship from regional and local experts during July to September, then two teams from Palestine will be chosen to participate in the Global Challenge and compete with 80 teams from 40 different countries.
Mohammed Abu Kumail, 31, is an activist on PWD rights from Gaza.  He says that adapting new methodologies of digital learning and remote communications could be an opportunity to adopt more inclusive policies and practices related to the participation of PWD in public life and economic opportunities.  "Yet, it is still far from reality, where the majority of PWD live in social, political, and financial hardships, with less access to power and the internet" he says.
"The young participants had an exceptional understanding of the challenges and problems around them" says Mohammed Nasr, UNFPA Youth Officer, Gaza, leading this challenge in Palestine.  "They have shown great enthusiasm and passion for bringing their ideas to life, contributing positively to their communities, and fighting against COVID-19", he continued. 
The challenge in the State of Palestine is being implemented by UNFPA, UNDP and UNICEF, with support from the Ministry of Entrepreneurship & Empowerment, the Palestinian Scouts Association, Bank of Palestine, Flow, Save Youth Future Society, Gaza Sky Geeks, Al-Quds University and the Palestinian Techno Park.
Related article on Generation Unlimited in Palestine, please visit https://bit.ly/3gyZp4W