UNFPA and the Palestinian Medical Relief Society (PMRS) organized a field visit taking place in Fahma Village mobile clinic and Maythaloon safe space in Jenin, and joined by the Representative Office of Canada. Participants witnessed the provision of primary health care, including integrated sexual and reproductive health services, as well as GBV detection. Referrals are provided through the mobile clinic, while psychosocial and legal counseling are provided  to GBV survivors through the safe space in Maythaloon.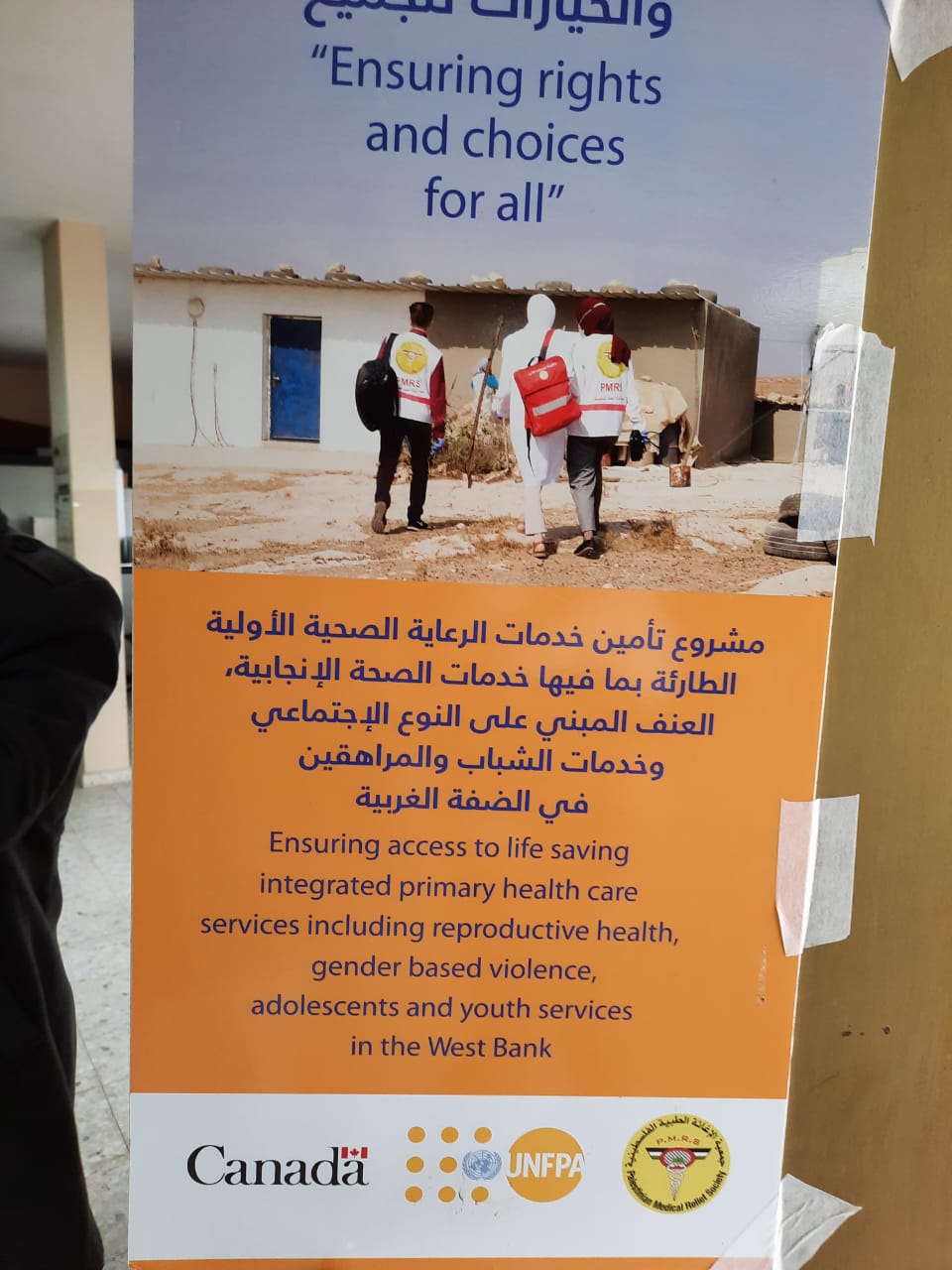 Participants met with mobile clinic staff and beneficiaries and discussed with them the range of quality services provided, and beneficiaries' needs. Beneficiaries expressed their satisfaction on the provided health services, in particular antenatal, postnatal and family planning consultations, and stressed the importance for the continuation of such services.  Having the mobile clinic meet the needs of these underserved and marginalized communities which lack health and other social services is critical, and fills a gap in healthcare not addressed by other service providers due to the political situation that exists in area C of the West Bank. Women can access, free of charge, quality antenatal, postnatal care, family planning, and GBV detection and referrals. The ability to refer GBV cases for follow-up consultation and counselling within the mobile clinic itself, or at the nearb  safe space in Maythaloon, ensures appropriate follow ups are available to those who need them.
"Canada is proud to support UNFPA and the delivery of essential health services, including sexual and reproductive health and response to Gender Base Violence, to those who need it most." Official from the Representative Office of Canada
PMRS, consider such visit as an added value to the humanitarian interventions in this marginalized area, i.e., area C in the West Bank, as it reflects true stories from the field and reflects what happens on ground: lack of access to health services" participant from PMRS said.
"We tend to strengthen advocacy towards the urgency and importance to fulfil the needs of  marginalized people in humanitarian context, as we aim to support their resilience" participants from PMRS said.
PMRS is working to integrate emergency and development in providing them with skills such as training on first aid and psychological support in the face of violence in general and for women subjected to gender based violence.  Through discussions and focus groups response to questions, such visits show the comprehensiveness  f services and interventions  provided  not only to women, men,  youth and children, but to the community as a whole, with a  focus  on  sexual reproductive health, mental health  with a gendered lens that support our strategy on empowering women subjected to violence.