Becoming a young leader
As of today, young Palestinians struggle to raise their voice and express their needs when decisions are made. This is a common challenge among youth in East Jerusalem, West Bank and Gaza, and a reason to discourage them in being involved or interested in civic life.
Young boys and girls are a powerful resource, and boosting their leadership has the potential to drive society to a bright future. Young leaders have the chance to engage others, bring fresh ideas, and finally shape the culture. It is the case with Tuqa Dereyah.
Tuqa is a 23-year-old young girl from Beit Fajjar, and she is the leader of the Youth Local Council (YLC) in her municipality. The YLC serves, at the municipality level, as an empowering tool to engage young people and build capacity.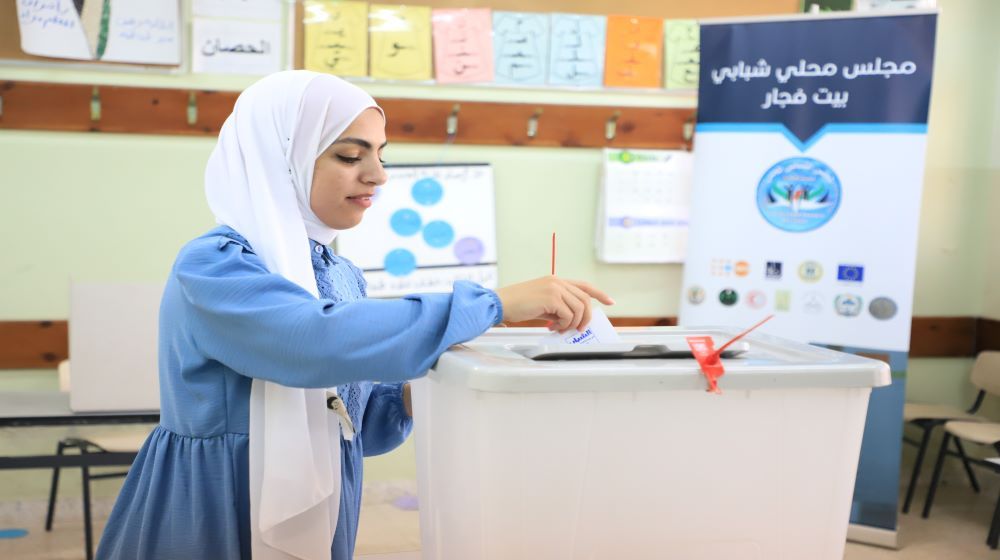 Before arriving at such a position, she had different volunteering experiences when she discovered her passion for supporting people. When she was only 18, during her first year of University, she started volunteering with Action Aid, where she was the leader of a young group named "Inspiration". Through this first experience, and later with the Palestinian Red Crescent Society, she collaborated in the organization of workshops and training sessions for youth in Beit Fajjar, and in activities addressing mental health in schools.
In these last few years, she has been working as an English tutor for adolescents, gaining more popularity for her concern towards young people. Indeed, when the project of having a YLC came up under Sharek Youth Forum's initiative, both youth and adults started thinking of her as the right representative.
In March 2022, she discovered the call for YLC leaders on social media, then decided to apply as a candidate and be part of a group for the elections. The election process, including the electoral campaigns (mainly on social media), drew the attention of the whole community. After a period of tensions among and within the groups, the election results proved the community's will, Tuqa was the winner! Thanks to the support of her family, friends, and her renovated interest towards people, she became the youngest YLC leader in the West Bank.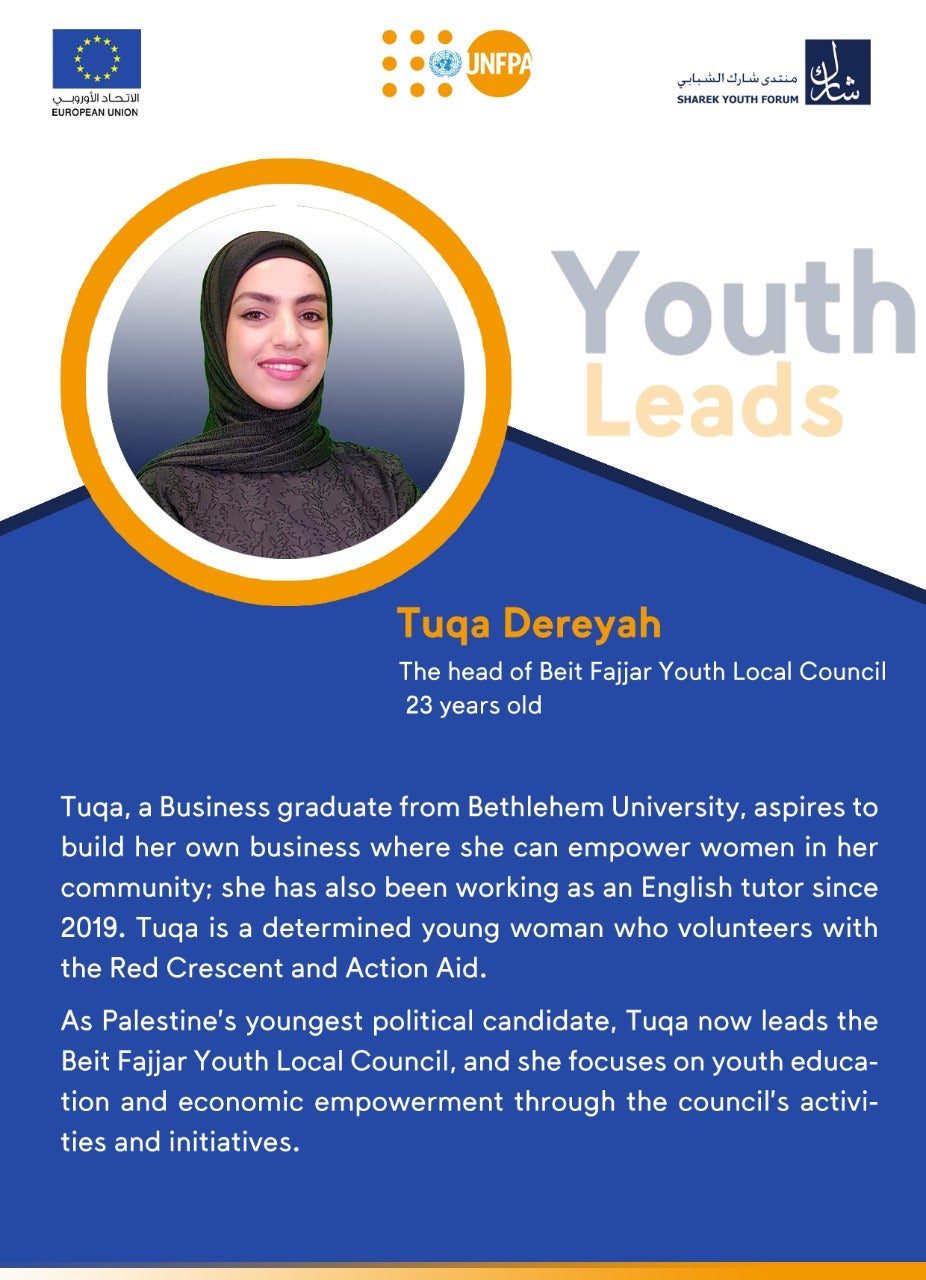 In addition to this success, Tuqa graduated one month ago in Business administration and marketing at Bethlehem University! Using her own words:
"I want to continue advocating for young people and young women. It won't be an easy journey. I am aware of the barriers and the difficulties I will encounter as a young woman, but I cannot step back, and I won't do it."
As an ambitious young woman, Tuqa looks at her future with faith. She has demonstrated enough bravery to prove to her family and community that she can face any challenge. Likewise, thousands of Palestinian young boys and girls chase their dreams. It is only a matter of opportunities and spaces. The Palestinian society needs its youth to be empowered, and we are all committed to support them in reaching their full potential.