أنت هنا
About us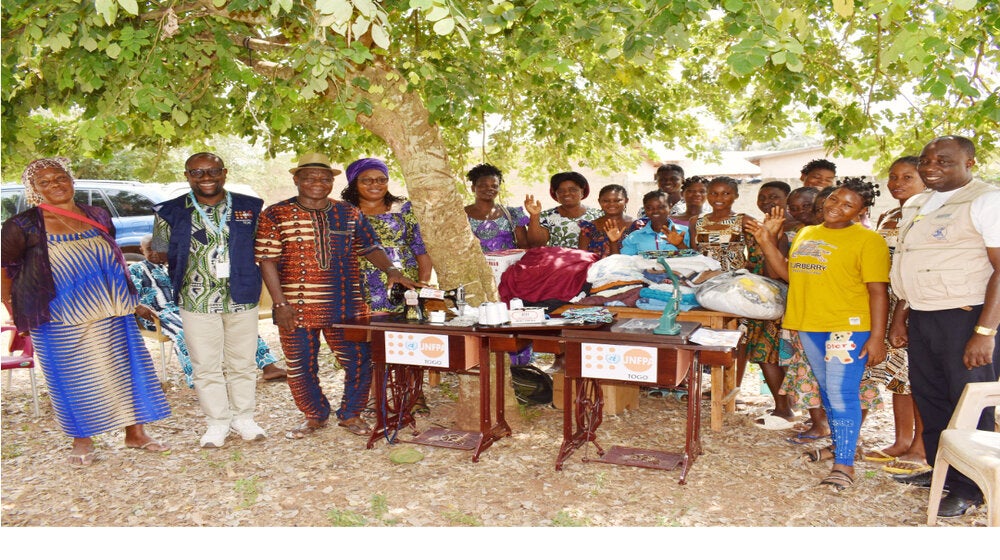 UNFPA promotes the right of all individuals to develop to their fullest potential. To exercise this right, all people, especially women, need access to information and services on reproductive health, including family planning and sexual health, to enable them to make informed and voluntary choices and decisions. As reflected in our mission statement, the Fund "supports countries in using population data for policies and programmes to reduce poverty and to ensure that every pregnancy is wanted, every birth is safe, every young person is free of HIV/AIDS, and every girl and woman is treated with dignity and respect."
What is the UNFPA mandate?
The mandate of UNFPA, as established by the United Nations Economic and Social Council (ECOSOC) in 1973 and reaffirmed in 1993, is (1) to build the knowledge and the capacity to respond to needs in population and family planning; (2) to promote awareness in both developed and developing countries of population problems and possible strategies to deal with these problems; (3) to assist their population problems in the forms and means best suited to the individual countries' needs; (4) to assume a leading role in the United Nations system in promoting population programmes, and to coordinate projects supported by the Fund.
At the International Conference on Population and Development (Cairo, 1994) these broad ideas were fleshed out in greater detail and developed to give more emphasis to the gender and human rights dimensions of population issues. UNFPA was given the lead role in helping countries carry out the Programme of Action, which was adopted by 179 governments at the Cairo Conference. Subsequent international agreements at ICPD+5, the Millennium Summit (2000) and the World Summit (2005) have linked UNFPA's mandate with specific, time-bound goals, and given greater emphasis to the Fund's role in HIV prevention and poverty reduction.
The three key areas of the UNFPA mandate -- reproductive health, gender equality and population and development strategies -- are summarized in itsMission Statement.
What does UNFPA stand for?
The United Nations Fund for Population Activities was established as a trust fund in 1967 and began funding population programmes in 1969. In 1987, it was officially renamed the United Nations Population Fund, reflecting its lead role in the UN system in the area of population. The original abbreviation, UNFPA, was retained.
For general communications, UNFPA is used as the Fund's working title in all languages. The full name is spelled out after the first reference. Official UN documents use the full written out name.
FACTS AND FIGURES ABOUT PALESTINE
The population in oPt was 4.8 million (2,881,957 persons in the West Bank and 1,899,291 persons in the Gaza Strip).  With the population growth rate of 2.8 per cent, it is projected to grow to 6.9 million by 2030.
Population growth rates will remain high despite expected reductions in the Total Fertility Rate (TFR), currently at 4.06 (MOH Annual Report Cites 4.4 TFR, according to PCBS) CHILDREN PER WOMAN
One-third of the Palestinian population is youth, and they are expected to account for 28 per cent in 2030. More than half of them live in Area (C) close to the apartheid wall and the settlements: the percentage of individuals (15-29 years) of 2017 in the West Bank was 29.0% compared to 29.5% in Gaza Strip
According to the data of the Population, Housing and Establishments Census 2017, the percentage of households headed by youth (15-29 years) in Palestine was 14.9% (13.9% in the West Bank and 16.5% in Gaza Strip).
The average household size is 4.8 in the West Bank and 5.6 in the Gaza Strip.  In Palestine as a whole, it stood on average at 5.8 in 2007 and decreased to 5.1 in 2017.
The unemployment rate among individuals (15-29 years) in Palestine increased in 2017 as it reached 41.0% (33.7% among males and 66.7% among females) compared with 2007 where it was 30.5% .
Unemployment of youth graduates exceeded 55%
The work of youth females is concentrated in the services sector. While, trade, restaurants and hotels sectors are the most accommodating for male youth employment
Less than 1% of the Palestinian youth work in decision-making positions
The data for 2017 showed that 0.7% of youth work as legislators and senior management employees (0.8% in the West Bank and 0.7% in Gaza Strip).
The number of Palestinian population aged 5 years and over who are enrolled in schools was 1,524.473 persons, comprising 38% of the total Palestinian population aged 5 years and over.
6.1% of children and adolescents in the age group 6-17 are not enrolled in schools.
3 out of 100 youth have disability/difficulty, and nearly a one-third of the youth who have disabilities/difficulty are not enrolled in education
More than one-third of the youth in Gaza Strip desire to emigrate
More than one-fourth of the youth are poor in 2017
As for sexual activity, 25 per cent of unmarried male youth (19-24) and 22 per cent of younger (17-18) male youth reported having sexual experience. Rates for females were generally similar. Rates for sexual intercourse remain lower (9.5 per cent of older unmarried males and 7 per cent of females).
42.5% of the Palestinian population are refugees.  26.6% in the West Bank and 66.2% in the Gaza Strip.
In 2017 Breast Cancer was the first leading cause of cancer deaths among women and the Third among all cancers  "MOH Health Annual Report 2017".
The population sex ratio in Palestine is 103.6 males per 100 females.
The maternal mortality rate in 2017 was 5.9 deaths / 100,000 live births (8.6 in Gaza and 3.8 in the West Bank). There were an addition 56 cases of "near misses" in 2017. Ministry of Health Annual Report 2017. 
The contraceptive prevalence rate (Percentage of women age 15-49 years currently married who are using (or whose partner is using) a (modern or traditional) contraceptive method) was 57% in 2017 (MICS survey 2014).
The population aged 65 years and over totals 151,413 persons or 3.2% of the total population.
59.1% of the Palestinian population aged 14 years and over are married (1,745,676 persons).
In Palestine, 98,474 people are illiterate, comprising 2.9% of the total Palestinian population aged 10 years and over.  Among females, the illiteracy rate has dropped significantly from 16.8% in 1997 to 4.3% in 2017.
While HIV/AIDS and STIs prevalence remains relatively low, the lack of comprehensive sexual education is likely to lead to increase in incidences.
2.1 per cent of females aged 15-49 are married before their 15th birthday, and 15.3 per cent of women aged 20-24 were married before age 18 resulting in early child bearing, reaching 22 per cent among women 20 to 24, with higher prevalence in rural areas, refugee camps, and Gaza, where adolescent birth rate is as high as 66 per 1000.
37 per cent of ever married women in Palestine have been exposed to at least one form of violence by their husband, while higher in Gaza at 51 per cent. Only 0.7 per cent of survivors have sought out services due to poor quality and cultural barriers.