GAZA – Khalet* has just celebrated his first birthday. He was born during the recent hostilities in Gaza, which ended in August 2014. During the conflict, his pregnant mother, Samah, moved from shelter to shelter to escape the bombing. She went into labour and was rushed to Al Awada Hospital, north of Gaza.
There, doctors realized that she should have delivered 10 days earlier and that she required an immediate Caesarean section. Tragically, she died shortly after giving birth to Khalet – two days before the ceasefire.
The health system is recovering, but the pace of improvement remains slow. Of the 14 medical facilities destroyed and 102 other facilities substantially damaged during the 51 days of military operations, only four hospitals have been repaired, and nine clinics are undergoing restoration. As a result, reproductive health services are compromised, maternal deaths have increased over previous years, and access to family planning has declined.The hostilities ended with heavy destruction, suffering and loss of life. Although some progress has been made in the past year, conditions in Gaza remain difficult, especially for women and young people.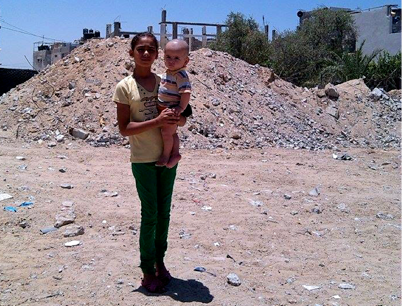 Health system in tatters
The Ministry of Health reported 17 maternal deaths in 2014, five of which occurred during the conflict. This compares to 11 cases in 2012 and 12 cases in 2013. Of the seven deaths reported so far in 2015, six were classified as avoidable, a clear indication of decline in the quality of care.
The number of new registrations and follow-up visits at antenatal clinics is a sign of some recovery. While figures have almost reached pre-crisis levels, further evaluation is needed to assess the long-term effects on the quality of care being provided.
Women's vulnerability remains a major concern
UNFPA conducted a rapid assessment after the conflict. The results showed an increase in gender-based violence, especially domestic violence. Women reported a prolonged lack of privacy as a result of over-crowdedness and displacement. There has also been an increased sense of vulnerability and heightened frustration, contributing to further stress.
The Ministry of Women's Affairs estimates that around 700 women were widowed as a result of the hostilities. These women are especially vulnerable, with limited social and economic agency. In addition, there are indications that economic hardships are driving families to marry off their daughters early.
Young people in limbo
Palestinian youth, who comprise one third of Gaza's population, also face continuing stress and hardship.
During the hostilities, young people were a source of resilience. Many rallied together as first responders. But one year later, they face serious difficulties.
Unemployment exceeds 60 per cent, despite high levels of education. Frustration and lack of motivation are often manifested in drug use and life-threatening attempts to emigrate. A recent survey showed that one in six young people, especially single young men, are considering leaving Gaza. 
Working to support those in need
Over the last year, UNFPA has been providing support to the health sector to re-establish services, and is working to combat gender-based violence and to protect women and girls. UNFPA has also provided support to young people to allow them to play a positive role in the reconstruction of their communities.  
Meanwhile, Khalet has just celebrated his first birthday. He is living with his father, who worries constantly about his children growing up without their mother. Their old house still lies in rubble, so the family of 12 shares a two-bedroom apartment, which they struggle to afford. 
The Red Crescent Society, through its UNFPA-supported Women's Health Centre in Jablia, has helped the family with medication, health counselling as well as psychosocial support. Still, even in times of relative peace, the challenges facing them are enormous.
*Name changed for privacy